Duesseldorfer Sophia-kai enjoyed the BBQ Party !
2015年07月06日
We Duesseldorfer Sophia kai enjoyed a great annual BBQ party on June 27th with more than 30 Sophians & Co, including visitors from remote area and several exchange program students from Yotsuya who are studying German universities.

Although the weather forecast was not so much positive, but the reality was totally different.
A very nice and warm weather supported enjoying local Alt-Bier (traditional dark beer from Duesseldorf region) and we enjoyed a lot of various tasty wines, too.
The remarkable feature of BBQ party this year was a lot of varieties of foods !
Also volume was historically high ! As result we enjoyed foods and drinks as we liked !

We have 3 member of Duesseldorfer Japanese Boys Male Chore among Sophians and they performed for us a nice songs with beautiful voice supported by good beer and wine . This was also unexpected fun for us.

The remaining foods were well taken away by the Students to make their student food life rich.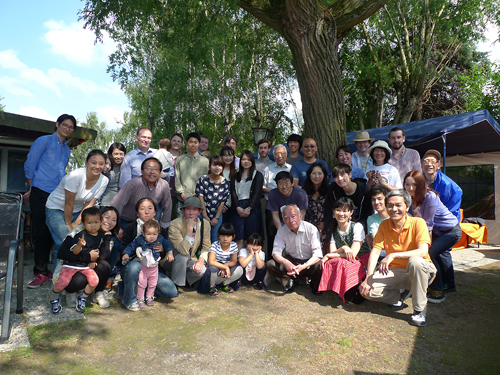 Ichiro Arai (graduated from Faculty of German Studies 1981)