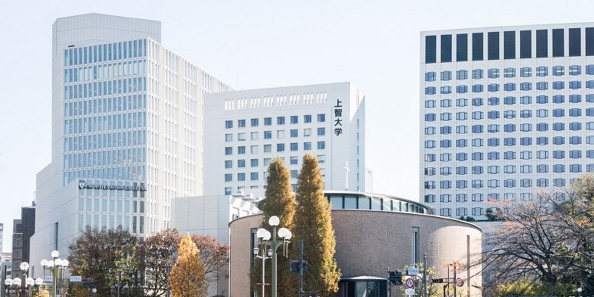 Greetings from Our Incoming SUAA President
September 5th, from the 2020 Autumn Conference of National Representatives of SUAA
An Alumni Association We Honor, by Masao Torii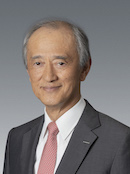 My name is Masao Torii and I have been appointed the President of the Sophia University Alumni Association.
As COVID-19 infections continue to spread, I would like to thank you for participating in the online Conference of National Representatives. I would also like to thank Chancellor Sakuma and President Terumichi for their opening remarks while they are focusing on COVID-19 countermeasures.
The fact that I have been able to live as a successful member of society for almost fifty years is due to the education I received here at Sophia University and for that I am truly grateful. It is a great honor for me to have been appointed President of the Sophia University Alumni Association here at my alma mater.
My family is a Sophian Family; my wife, our son and his wife, and our oldest daughter have all studied in the Faculty of Foreign Studies. As this is an opportunity for me to make a contribution back to my alma mater, although my force may not be large, I will do my best to build our alumni network and to further Sophia's development.
I would like to take this opportunity to thank President Togawa and the other members of the SUAA Board for their dedication to leading SUAA. President Togawa has significantly contributed to SUAA growth over an extended 15-year period, which includes three years and three months that he served as President, while prior to that he also served as Vice President and Executive Secretary. I thank you again for your service.
Unlike experienced President Togawa, I still have much more to learn about SUAA. Since there is no way to predict when COVID-19 might end and the new Executive Committee is setting out into an unstable situation amid which Japan and the rest of the world is searching for a new normal, I hope you all will continue to offer your powerful support.
SUAA is an organization of volunteers eager to give back to our alma mater, and I hope we have a good time and create an upbeat SUAA atmosphere.
I hope that the students studying here at Sophia University as well as fellow alumni take pride in our alma mater; that high school students will admire Sophia University and desire to study here; and that we all can contemplate and take action together to show what we capable of achieving for SUAA. I thank you for your support and cooperation.
Masao Torii (German Studies, Foreign Studies, 1970) Profile & Positions
---
MBA in International Business, International College Graduate Program, Sophia University
Novartis Holding Japan K.K. President and Representative Director
Swiss Chamber of Commerce and Industry in Japan Vice President
Department of German Studies Alumni Association President
Sophia Business Club Vice President
SUAA Vice President (since October 2016)
Graduate of Yokohama-Suiran Senior High School, ESS Vice President, Student Council President

Sophians Club
Address: 7-1, Koicho, Chiyoda-ku,
       Tokyo, Japan 102-8554
Tel: +81 (0)3-3238-3041
Fax: +81 (0)3-3238-3028
E-mail:
Office hours: 10:00-17:00
(closed on Sat, Sun and National Holidays)






About
What is the Sophia University Alumni Association (SUAA or "Sophia-kai" in Japanese)?
SUAA is the association of the alumni of four schools of the Sophia School Corporation: Sophia University, Sophia University Junior College Division, Sophia School of Social Welfare and Seibo Nursing School since the Seibo School Corporation merged with Sophia's in April 2011. It also considers current students of Sophia University as Associate Members. Those who studied in a Sophia school but did not receive diplomas can also become members by submitting a request with the recommendations of five Regular Members. The total number of SUAA members was 140,000 in April 2023.
Under its umbrella come SUAA organizations of regions, clubs, circles, classes, seminars, professions, businesses or industries. The SUAA has expanded its activities to cooperate with them. It also established SUAAs for faculties and departments in 2013 and started collaboration among groups. There were 312 resistered groups in the USAA in May 2023.
The SUAA has always been engaged in "making SUAA appropriate and open to its members".
The last general meeting in 2008 updated SUAA norms, revised its bylaws and established the Conference of National Representatives as the highest decision-making body replacing the general meeting.
Regional SUAA National Conferences started with Kyushu in 2009, followed by Kansai, Yamanashi and Hokkaido, leading to the successful expansion of the Tokyo Conference, followed by Niigata (2014), Hiroshima (2015), Sendai (2016), Nagoya (2017), Kagawa (2018) and Matsumoto-Shinshu (2022).
Meanwhile, through the celebration of the 100th anniversary of Sophia University in 2013, the SUAA has been committed to various commemorative projects and fundraising in cooperation with Sophia University. As a result, the alumni have been able to make donations that have exceeded 1.2 billion yen in total.
The SUAA communicates with its members in various ways. Semi-annual publication Sophians Now is sent to more than 80,000 members
Semi-monthly e-mail news is also distributed to more than 350,000 subscribers.
In line with Sophia University's approach to globalization, the e-mail news is also partially translated into English since March 2013.
Concurrently, the SUAA website was renewed in 2011 and the news is updated about fifty times a month.
The titles of the news are republished on SUAA's Facebook page (more than 6,500 members) and gaining more than 40,000 hits a month.


History
The SUAA was officially founded in 1937 by graduates of Sophia University. The list below shows notable events that took place.
1913

Official foundation of Sophia University, permitted for higher education by the Meiji Government (under the act Sen-mon Gakko Rei).

1918

First graduation ceremony with nine graduates.

1924

First alumni meeting held on 16th November in the garden within the campus.

1925

Foundation of the Sophia Students Association.

1926

Publication of Sophia, the journal of Sophia Students Association on 5th April.
Announcement of the Sophia Alumni Association as the official name in the alumni newsletter issued in October.

1927

SUAA organized by the graduates.

1936

Publication of the Sophia Alumni Association News (currently titled Sophians Now) in February.

1937

First general meeting of the SUAA at the old Marunouchi Building on 1st December. Fr. Hermann Heuvers, S.J., the second president of the university was elected as the first chancellor, and Mr. Michisuke Nishimura (Faculty of Commerce, graduated 1918) secretary general and the first president.

1948

The Tokyo Sophia Club (current "Sophians Club") opened in a Quonset hut on 30th August.

1954

General meeting of National SUAA held in the auditorium of the 1st Building on 3rd November.

1955

Donation collected from the graduates to fund SUAA.

1957

Office of the alumni association (currently called the SUAA office) opened on the 2nd Floor of the old Sophia House.

1965

The Sophia News, originally titled the Sophia Alumni Association News, started as a quarterly publication.

1973

Mirai-ni Mukatte (Looking to the Future) published by the alumni association for the 60th anniversary of Sophia University.

1974

The first All Sopihians' Festival (ASF) held in the garden of S. J. House on 18th May. The SUAA office moved to the 1st Floor of the 3rd Building and was renamed the Sophia Alumni Association Office.

1981

The Golden, Silver and Bronze Anniversary Celebrations started at the ASF on 31st May.

1987

Publication of Sophian's Now started.

1990

Issuance of Sophians Card (credit card) started.

1994

Sophian's Club opened in the Sophia Hall Annex facing Shinjuku Dori.

1995

Over 4,000 people visited ASF.

1997

SUAA website (Japanese) launched.

2002

SUAA Contribution Course started to contribute to our alma mater.

2004

100th monthly lecture at the Sophian's Club held on 2nd December. The commemorative lecture "What is Sophia?" was given by Archbishop Joseph Pittau, S.J.

2005

SUAA's Fundraising Committee was founded for the 100th anniversary of university.

2008

SUAA office started in the form of several committees.
Directory
Stay in touch with the SUAA communities.
Department/Faculty SUAAs
New groups of SUAA, established at the time of the 100th anniversary of Sophia University in 2013, aim to build strong ties among alumni, students and professors.
URL:http://www.sophiakai.gr.jp/news/faculty/index.html
Regional and other SUAA chapters
There are more than 312 SUAA chapters throughout the world. There are SUAAs of club activities, business and workplace groups. Stay connected and find out more with the following links.
Online Registration
Please submit your contact information using the form in the URL below.
If you would like to subscribe to the bi-monthly email news, please use the same form for registration.
URL:https://www.sophiakai.gr.jp/form/fid_47.html


Office
Sophia University Alumni Association
Address: 7-1, Koicho, Chiyoda-ku, Tokyo, Japan 102-8554
Tel: +81 (0)3-3238-3041
Fax: +81 (0)3-3238-3028
E-mail:

Office hours: 10:00~17:00 (closed on Sat, Sun and National Holidays)