HOME > イベント > The First Xavier Cup: Speech Competition in Japanese by Non-Japanese-Speaking Students concluded with success
The First Xavier Cup: Speech Competition in Japanese by Non-Japanese-Speaking Students concluded with success
2019年12月19日
Japanese speech competition by non-Japanese-speaking students, for the first time with those from other Christian universities, was held on 8th December. Total of 14 speakers from Aoyama Gakuin, Dokkyo, Rikkyo, Sacred Heart Tokyo, and Sophia participated, with the subject "The most impressive experience in Japan". Each speech showed that even a small incident could be a unique experience, leading to deep understanding of unknown culture and his/her own as well. It was moving to listen how each person takes delight, wonder, and think, living here away from home. Due to the quality of the speeches, judging process was not easy, however, Liu Conghui, from China, Aoyama Gakuin received the first prize.

Mr Hitoshi Ohno, ex-member of Team Japan of the Rugby World Cup, was among the judges and presented an official jersey with his own signature to the winner of Ohno Prize. Referring to the recent Rugby World Cup held in Japan, he addressed to students, "Team Japan comprises players from Japan and other countries, and you remember how well the team played. I encourage you to be a connection between your home country and Japan. Hopefully your experience today would be the start of it."

Ms Kazuko Shiraishi, ex-ambassador to Lithuania and head of judges today, said, "Thank you for choosing Japan from many possible destination countries. Sophia University Alumni Association would like to support visiting students, not only those studying in Sophia, but all of them. I look forward to seeing you all flourish in your home and in Japan. Your experience of studying Japanese very hard would be a lifetime treasure for you."

The competition concluded with success, in warm and friendly atmosphere, followed by a gathering at the Sophian's Club.
Sayoko Tasumi (SUAA International Committee)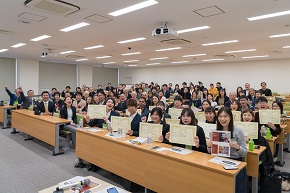 Participants with the certificate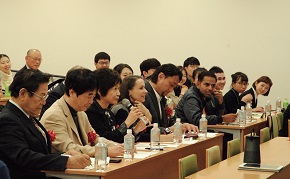 Ms Shiraishi, head of judge, with a question to a speaker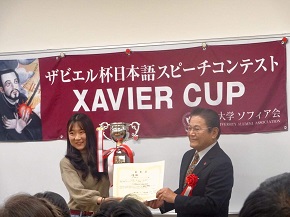 Ms Liu receives the Xavier Cup from Mr Togawa, President of SUAA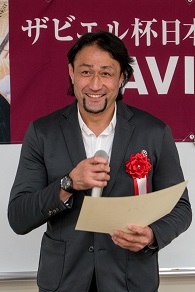 Mr Hitoshi Ohno, ex-member of Team Japan, Rugby World Cup