Sophia Next100 Committee
The 6th Sophians' Entrepreneurs Meeting
Friday, November 15
2019年09月18日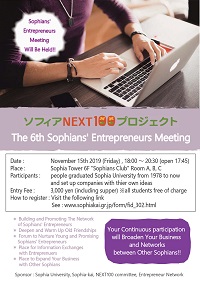 ※ "Sophian Entrepreneurs" : people who graduated from Sophia University and started a company with their own ideas and still hire employees.
※ What is "Enlarged"?
- Entrepreneurs not hiring employees can also participate if you graduate Sophia University at this time.(Please refrain from participating under the careers related to professionals and insurance companies.)
- Only the first 10 students who want to interact with Sophian entrepreneurs can participate.
(Students should be notified by email only for the first 10 students.)
Sponsored by Sophia University, Sophia-kai, NEXT100 committee, Entrepreneur Network
Main Purpose of This Event
Building and Promoting The Network of Sophians' Entrepreneurs
Deepen and Warm Up Old Friendships
Forum to Nurture Young and Promising Sophians' Entrepreneurs
Place for Information Exchanges with Entreprenuers
Place to Expand Your Business with Other Sophians

Your continuous participation will broaden your business and networks between other Sophians!!
(Through this meeting, some Sophians got chances to start their new businesses.)
※This event is mainly held for entrepreneurs employing people and have their own companies and graduated from 1978 to now. Please note that the space is limited so the number of applicants should be restricted too. We distribute a participation list on the day. Therefore, we will send you an email in order to include simple company information on the list distributed to you in the event. If you want to cancel to participate, please send an email to the following address.

※Please note that cancellation fee should be paid by yourself after November 1st.
Application: Please make an online entry from the Sophia website.
Sophia University Sofia Secretariat : Tel 03-3238-3041
(English)Please click this icon for your registration.